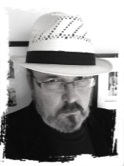 J.H. Glaze is a versatile storyteller, born in northeast Ohio. As a young adult, Glaze traveled the country, frequently hitchhiking, and always looking for adventure and new opportunity. Much of the quirky plot lines inherent to his tales were informed by the experience of these early years. Readers will appreciate his accessible, "Hey, I know you" phrasing, and the everyman voice that will seem so familiar, drawing them in before providing an unexpected twist. With a blend of horror and humor, he delights in giving the reader a kick in every chapter of every book.

A self-published author, J.H. Glaze is known to his fans as one of the New Kings of Horror. He currently lives near Atlanta with his wife, Susan, two dogs who are crazy about him, and a Senegal parrot that merely tolerates him.
A PDF version of the official J.H. Glaze biography is available
by clicking here
.